Plugin Boutique has announced an exclusive Black Friday Sale on Photosounder products.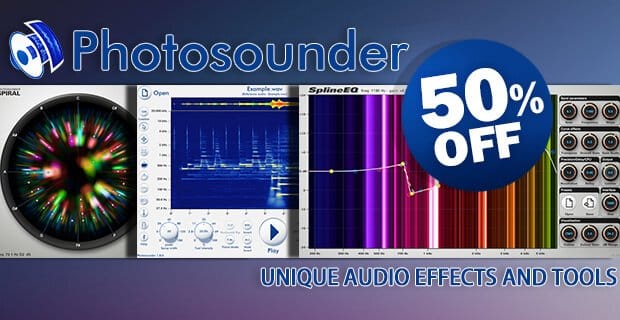 We've teamed up with our good friends over at Photosounder to offer 50% off their complete range, including their flagship photo/sound manipulating plugin Photosounder!
Photosounder sale
Photosounder is the first audio editor/synthesizer to have an entirely image-based approach to sound creation and editing. Thanks to its powerful and omnipotent synthesis algorithms, it is capable of creating any sound possible. Powerful built-in image editing tools, some yet unknown to general image editing programs, are specifically tailored to enable you to create and edit sounds with ease in ways and with results simply impossible with other programs.
Spiral is a music analysis plugin. It's a fresh take on spectral analysis focused on allowing you to see and understand music and the notes that make it up instantly. This is achieved mainly by coiling the spectrum into a spiral framed by a chromatic circle, thus allowing you to instantly see what's happening musically and spectrally.
SplineEQ is a linear phase equalizer plugin. Designed to be simple and flexible, SplineEQ allows you to create filters using Bézier splines, the best known way to design curves.
The sale ends December 1st, 2015.
More information: Plugin Boutique / Photosounder