Plugin Boutique has announced the launch of the Reveal Spire+ Bundle, an exclusive limited time value pack.
The bundle comprises the Spire synth by Reveal Sound, the Producer's Guide To Spire from Producertech and the inSpired Preset Pack, a collection of 64 expertly crafted presets that cover multiple shades of electronic music.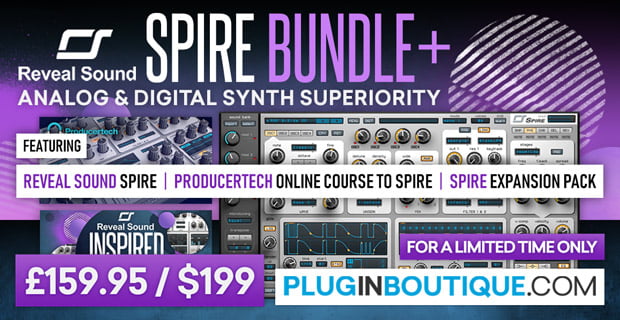 Reveal Sound's superior analog and digital synthesiser Spire has been combined with an in-depth online course, demonstrating how to maximise the powerful sound engine using a multitude of techniques. This bespoke bundle also comes with the InSpired Presets Expansion Pack, comprising 64 expertly crafted presets to increase Spire's sonic library.

Spire+ Bundle is exclusive to Plugin Boutique, delivering high-quality software and tutorials to help you master the capabilities of polyphonic sound design at a discounted price. Open the doors to new realms of inspiration with this cutting-edge collection!
The bundle is available for £159.95 GBP.
More information: Plugin Boutique