Plugin Boutique has launched a sale on Cerberus Audio, offering 40% discount on the Epoch and Volt plugins.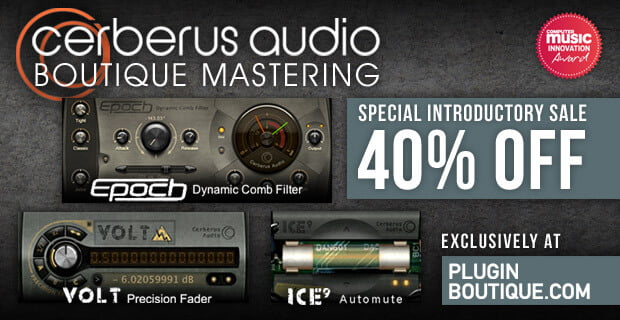 We are pleased to welcome Cerberus Audio to Plugin Boutique! Check out their innovative award winning Epoch Compressor along with precise gain control utility. Save 40% off exclusively at Plugin Boutique for a limited time only.
Cerberus Audio plugins
Epoch is a powerful character compressor which uses comb filtering to simultaneously affect dynamics and tonal coloration. Epoch's unique feature set includes transient detection with lookahead and external sidechain. Epoch's musically pleasing compression is ideal for use on either instrument tracks or full program material.
Volt Precision Fader is a high quality software plugin for fine control of gain. Volt was designed to produce smoother fades and more precise gain staging than is possible with conventional DAW faders.
Ice9 Automate is a FREE utility which protects your speakers, your ears and your nerves from dangerously loud output levels.
The sale ends September 14th, 2016.
More information: Plugin Boutique / Cerberus Audio