Plugin Boutique has announced a sale on JST Plugins, offering 20% off for a limited time only.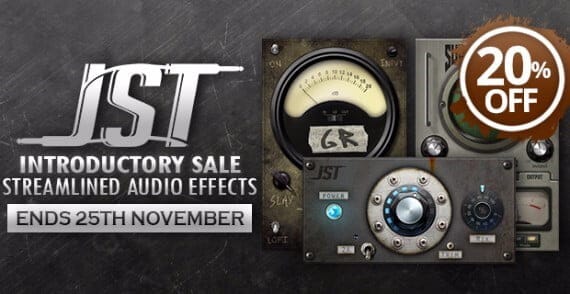 Joey Sturgis Tones provides streamlined audio products designed to inspire creativity and help musicians, producers, and songwriters to create great music. JST believe that the more effortless music creation becomes, the more thoughtful and innovative the creator can be.

Check out their featured plugins below and save 20% off exclusively at Plugin Boutique for one week only. (Ends 25.11.15)
JST Plugins
SubDestroyer — Use Sub Destroyer to program powerful and explosive low-end. Add to existing bass, replace the bass content in a bass guitar performance for perfect pitch using midi, or generate bass drops with extended harmonic range that is more apparent in the mix. Sub Destroyer can also be used to create EDM and Dubstep sounds.
JST Clip — JST Clip is Joey Sturgis's version of a clipper that is built with the mixing and mastering engineer in mind. This powerful peak clipper is designed to be an integral part of your dynamic control while preserving your transients and generating harmonic saturation. Prevent digital overs with pleasing sonics, and increase the boldness of your source with ease. JST Clip is a powerful peak clipper built for sonic perfection.
Gain Reduction Suite — Get the signature Joey Sturgis vocal sound as heard on albums from artists like Asking Alexandria, I See Stars, We Came As Romans, Of Mice & Men, Attack! Attack! from labels like Rise Records, Sumerian Records, and Fearless Records! Gain Reduction Deluxe is a vocal compressor plugin by producer Joey Sturgis. This plugin is intended for vocalists, musicians, engineers, mixers, and all audio production people alike! This compressor will instantly give you mix-ready sounding vocals with little to no effort, just insert the plugin on your track and you're ready to go. Turn the knobs to tame or tighten your sound! Crank the gain to saturate and distort! Try it on drums and other instruments too. Gain Reduction Deluxe is your new go-to compressor!
The sale ends November 25th, 2015.
More information: Plugin Boutique / JST Plugins