Plugin Boutique has released Scaler, a unique and inspirational MIDI effect that makes finding chords and progressions intuitive and fun.
Scaler features note detection, scale selection and chord suggestions, offering a comprehensive but easy-to-use toolbox that will help anyone make better music.
A first of its kind, Scaler can determine what key and scale you're in and suggest chords that match your music, or it can inspire a tune from scratch by providing a set of initial chords in an unexplored key. With the onboard bank of 1,728 scales and modes including genre and artist presets, there's more than enough to keep the juices flowing.

Once you've determined a scale, Scaler lays out basic diatonic chords for you to audition, and lets you take things further with dozens of chord variations and voicings to try out. Theory buffs can also get an insight into each chord's harmonic function.

Ready to put together a progression? Simply drag and drop chords into Scaler's sequencer, change up octaves and inversions, and record or drag the progression into your DAW.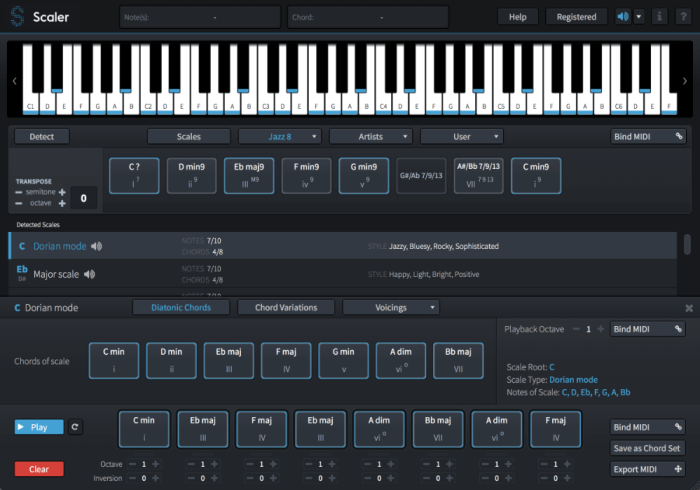 Scaler features
Discover your music's key and explore alternative scales and chord sets.
Choose from hundreds of keys, and get the harmonic flavours of pro artists.
Easily audition chords and find alternative voicings and common substitutions.
Quickly build intelligent progressions by dragging chords into Scaler's chord sequencer.
Drag chords and progressions from anywhere in the plugin out to your DAW.
Scaler for Windows and Mac (VST/AU) is on sale at an introductory 25% discount until December 3rd, 2017 (regular £39.95 GBP/$49 USD).
The AAX version of Scaler will be made available on December 1st, 2017.
More information: Plugin Boutique / Scaler