Plugin Boutique is offering a 30% discount on MeterPlugs plug-ins as part of its Partner Focus.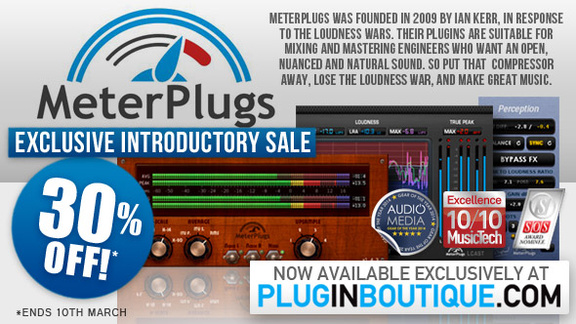 MeterPlugs is the meter plug-in company. Their sole focus is to provide you with exceptionally well-crafted meter and analysis plug-ins. No hardware, no effects, only meters.

MeterPlugs was founded in 2009 by Ian Kerr, in response to the loudness wars. Their plugins are suitable for mixing and mastering engineers who want an open, nuanced and natural sound. So put that compressor away, lose the loudness war, and make great music.
MeterPlugs plug-ins
K-Meter — Over the past twenty years, music has been getting louder and louder. New recording equipment and software have made it possible to produce extremely compressed audio. But is this really what listeners want? K-Meter offers an alternative by encouraging greater use of dynamic range. If you want your tunes to sound more open, nuanced and natural, this fully-compliant K-System meter is for you.
Perception — Ever wonder, "how loud should my music be?" Many people prefer louder music – that's how the loudness wars started – but too much "loudness processing" can do more harm than good… Squashed, dull, flat sound – or even pumping and distortion. Now, with Perception, you can zero in on your music's loudness "sweet spot".
LCAST Stereo & LCAST Surround — LCAST makes it easy to take loudness and true-peak measurements. It supports all the major loudness standards and has easy-to-use presets for the most popular ones: ATSC A/85 (CALM Act), ITU BS.1770 and EBU R128. Mono, stereo and surround formats are all compatible (surround only available in LCAST Surround). Use LCAST with Logic, Final Cut Pro X, Soundtrack Pro, Cubase, Nuendo, Reaper and more. LCAST has everything you need to create broadcast-ready audio.
The MeterPlugs plug-ins are available at 30% off until March 10th, 2015.
More information: Plugin Boutique / MeterPlugs