Plugin Boutique returns with about Top 5 Friday series video, this time taking a look at some popular delay and echo effect plugins.
I like my delays so I would have a hard time doing a top 5. Some of my favorites include Applied Acoustics Systems Objeq Delay, u-he MFM2 and Colour Copy, Ohm Force Ohmboyz, FabFilter Timeless 2, D16 Repeater and Sigmund, iZotope DDLY Dynamic Delay, Blue Cat's Late Replies, Native Instruments Replika… and I'm sure I am forgetting a bunch.
The following plugins made Tim Cant's top 5 list.
5. SphereDelay by WA Production.
This one's a solid, four-mode delay that's easy to reach for and won't hurt your budget, coming in at £45 RRP. Those four modes – Mono, Stereo, and two Ping Pong varieties – give you plenty of starting points to build a delay sound quickly and simply.
Next, you can crank up the feedback, apply a stereo filter to the delayed signal, modulate the decay time and the cutoff. There's also analogue-style saturation onboard to get you the feel of an old-school tape delay processor.
What we like about this one especially is the Reverse control, which turns the delay on its head – try it out on drums, vocals and anything else, in conjunction with the delay time control, to get some more interesting echoes.
4. UltraTap by Eventide.
UltraTap is what happens when you create a delay with the focus on the number of taps. Up to 64 can be selected – meaning that there's 64 repeats whizzing by at a frequency determined by the Speed knob.
While UltraTap has the usual delay controls like Mix, Speed, Spread and Width, the rest are tailored towards the playback of the taps. Taper makes the taps fade in or out more or less, making the results smoother or sharper, Chop acts like an LFO to control other properties of the delay algorithm, and Slurm smears the taps together, combining them into a thicker mix.
UltraTap's ribbon controller controls multiple parameters like a macro, letting you control a few knobs on the interface all at once from one control.
3. Colour Copy by u-he.
Originally taking shape as an effect called Lyrebird within Urs Heckmann's RePro synths, Colour Copy has sprouted its own pair of wings and landed a new spot in plugin folders everywhere.
With its analogue-style operation, Colour Copy creates that lovely slewing effect when you change the delay time, and there's Width, Mix, and Feedback (Regen) onboard. That excellent u-he sound is here throughout.
But the thing that sets Colour Copy apart from other delays is its Colour knob, which morphs between five modes for the delayed tones: Reso, Sparkle, Fuzz, Snap and Dusk, each imbuing the sound with a unique character.
2. stompDelay by PSP AudioWare.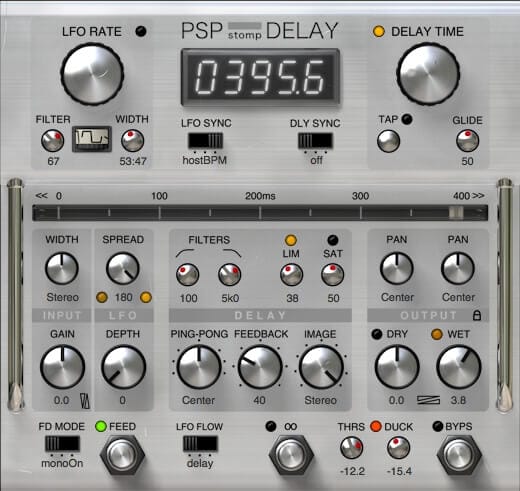 A stomp-box inspired delay that's been designed to make creative delay processing a breeze, stompDelay gives you vintage, tape-style delay at the rather reasonable price of £55.50.
With comprehensive control over everything from high and low-pass filters, saturation level, and even various pan position setting, this is the ideal delay all-rounder. But there's more! In addition to these familiar features stompDelay gives you the option Infinity mode that's ideal for live applications or making your ambient drone projects more twisted than ever.
1. EchoBoy by Soundtoys.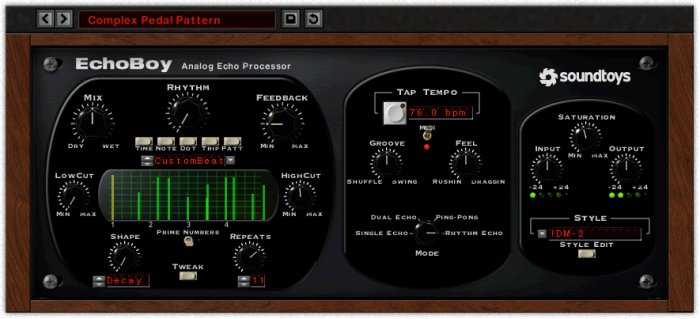 It's the now-classic plugin delay that's been used the world over, and over, and over. EchoBoy has four types of delay: Single Echo, Dual Echo, Ping Pong and Rhythm Echo, giving you everything from flanging and slapback delays to longer, rhythmic and echo effects.
Global parameters include Groove and Feel knobs, which tweak EchoBoy's timing towards Shuffle, Swing, Rushing and Dragging, and there's also Saturation with a choice of styles. The standard Echo and Ping-Pong modes are straightforward enough, but the Rhythm Echo is where EchoBoy really steps it up a notch.
This mode gives you up to 16 repeats of the signal, and a grid to place and edit their timings and levels. There's control over the grid's mani rhythm, adjustable Feedback, filtering, overall Shape adjustment, and even a switch to activate only prime number delay timings.
So, did you find some of your favorites in the list? You can download a free trial version of all the plugins in the top 5 at Plugin Boutique.
More information: Plugin Boutique