Plugin Boutique is offering a 30% discount on the VirtualCZ phase distortion synthesizer and BigKick kick drum synth plug-in for Windows and Mac.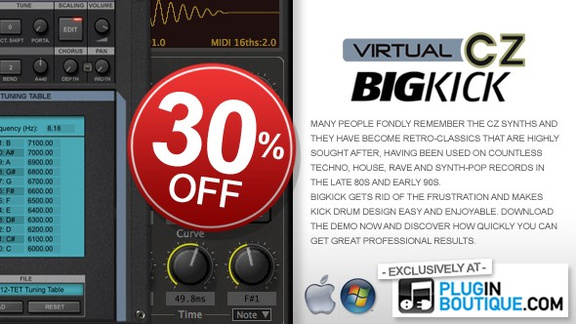 VirtualCZ uses Phase Distortion – which is similar to FM Synthesis but easier to program!It can make great pads, leads, bass, percussion and RAVE ORGAN sounds that will fit into a wide variety of genres. Many people fondly remember the CZ synths and they have become retro-classics that are highly sought after, having been used on countless techno, house, rave and synth-pop records in the late 80s and early 90s. Lots of artists still use them today for their unique sounds.

BigKick is designed to make kick drum design fast, easy and enjoyable. It has a carefully selected set of features to help you get results quickly. And, unlike many other tools, the controls are limited to values that produce useful kick drum samples. It also lets you make the best possible use of existing sound libraries you have.
The sale ends December 2nd, 2014.
More information: Plugin Boutique