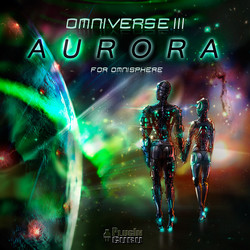 PlugInGuru has released Omniverse III: Aurora, a concept story based patch library featuring 100 sounds for Spectrasonics Omnisphere.
By first writing a science fiction alien race invading war story about the survival of the planet Omniverse, the majority of these patches were written to provide the sound palette needed to compose music for this story. The included 320Kbs MP3 demo by Amin Bahtia called "Battle for Omniverse" is designed to show how well the final patches work together.

There are 100 patches including fast attack String Orchestra Patches, Short Attack Strings, Fast Arco Strings, Solo Cello, Solo French Horn, Ensemble French Horns, Massive Pipe Organs (with Choir and Strings layered versions also included), Orchestral Bass Drum, Orchestral Snare Drum, Sonic Space Impacts, Death of a Evil Civilization in sonic form as well as unorthodox Bell patches and beautiful synth pads of many colors – many with motion elements that are very beautiful. There is also the Auroa Piano which is a mellow dream piano patch that are designed to add toxic distortion and multi-octaves to the sound as a user moves the modulation wheel.

Every patch has sonic changes with the modulation wheel. For example, with the fast attack string programs, EQ in the layer effects is used to increase the high EQ with the modulation wheel for a useful "hard rosin" effect to the sound.
The soundset is available for purchase for $30 USD.
More information: PlugInGuru / Omniverse III: Aurora