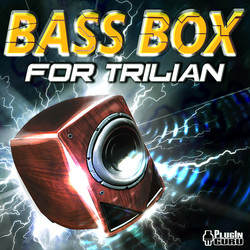 PlugInGuru has launched Bass Box for Trilian, a collection of 160+ new patches for the Trilian bass instrument by Spectrasonics.
Bass Box is a new library of 161 Patches and 110 effect "Rack" presets for Spectrasonics Trilian. The most recent patches from Spectrasonics for Trilian were released over 3 years ago. This library brings Trilian up-to-date with a wide variety of patches for todays music productions and also includes inspiring Acoustic/Synth and Electric/Synth bass layers – something Trilian never included in their factory patches.

Another cool thing: This library comes formatted to work with both Trilian or Omnisphere (if you own BOTH plug-ins). Installation instructions are included in the ReadMe.PDF file.
Bass Box features
161 patches: 85 Bass, 31 BPM Bass, 11 Bass Chord, 9 Polyphonic Synth, 8 FX, 7 BPM FX, 5 Bass Drone, 5 Bass FX.
110 Effect Rack Presets: 60 MIX (usually used in Common), 23 Distortion (usually used in Layer A or B), 12 Combo (preset for one of the layers PLUS Common), 11 Phaser (usually used in Layer A or B), 4 Low Pass Filter (usually used in Layer A or B).
Bass Box is available for the introductory price of $25 until September 21st, 2014 (regular $30 USD).
More information: PlugInGuru / Bass Box for Trilian