PlugInGuru has returned with a new sound library for the Omnisphere virtual instrument by Spectrasonics.
Produced by John Lehmkuhl, MegaMagic: Viola features a collection of 330 carefully crafted samples used in 15 variations/articulations, bringing new orchestral colors to Omnisphere 2.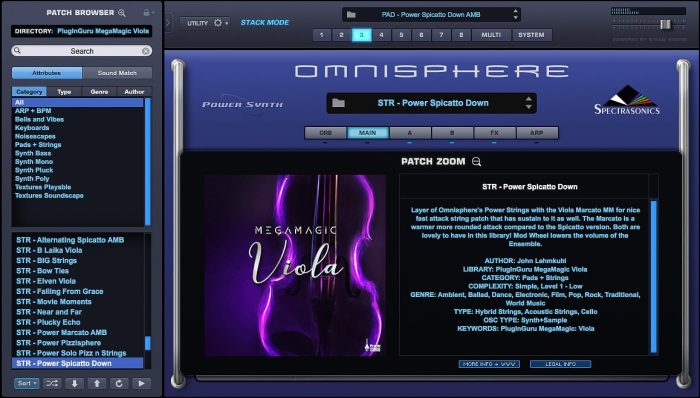 By using Multis that contain up to 8 samples mapped across the keyboard, MegaMagic: Viola brings solo viola with vibrato, no vibrato, crescendo, down/up stroke, pizzicato, spicatto up stroke, spicatto down stroke, marcato, motion slow, motion fast, motion harmonics, motion whisper and 4 composite sounds made by combining MegaMagic: Cello, MegaMagic: Pads, MegaMagic: Bells & Winds, Del Norte and Viola samples to create: Regalscape, Dreamscape, Flutterscape and Pizzicatoscape.

The 11 main articulations come in 3 different treatments: Dry, Ambient (AMB) and MegaMagic (MM). Dry is the original recordings. Ambient are processed to sound like a concert hall reverb is recorded into the samples. MegaMagic are processed with 3 unique reverbs to create a lush 12 second reverb that rings out with a "magical quality" that is a trademark of all 9 MegaMagic libraries available at the PlugInguru.com website.

This library contains 128 patches, 81 Multis which stretch far beyond just solo viola samples.
The library is available for the intro price of $42 USD until May 10th, 2018 (regular $49 USD). Requires Omnisphere 2.4 or higher.
More information: PlugInGuru