PlugInGuru has announced the release of MegaWav Epic and MegaWav Evil, two new patch libraries for the Serum wavetable based synthesizer instrument from Xfer Records.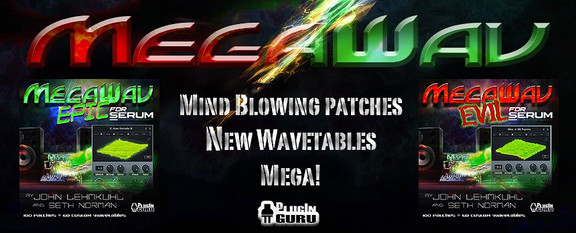 These libraries were created jointly by John "Skippy" Lehmkuhl and Seth Norman – and while originally this was going to be a single library, we both created a lot of really cool patches and decided to create 2 libraries for Serum at one time!

So what's the difference between Epic and Evil? In a nutshell:

MegaWav Epic is aimed at EDM/Pop Music and the BPM patches generally have a 4-on-the-floor flavor.
MegaWav Evil is aimed at DubStep/BroStep/Bass Music and the BPM patches match these musical styles very well.

Every one of the 200 patches has all 4 Macro knobs and the Modulation wheel assigned to do serious sonic damage to the sound in interesting ways. This added programming takes a lot of time that most libraries ignore (because the programmers are lazy). PlugInGuru has NEVER ignored this and always programmed every patch in every library to use all real-time controls to manipulate the sounds.
The packs are available for the introductory price of $27 USD each until December 1st, 2014 (regular $30 USD); the bundle of both is $50 USD (regular $60 USD).
More information: PlugInGuru / MegaWav Epic & MegaWav Evil