PlugInGuru has announced OmniChill, a new sound library for Spectrasonics Omnisphere, featuring patches for downtempo, chill, ambient, chillstep, newage and film music composers.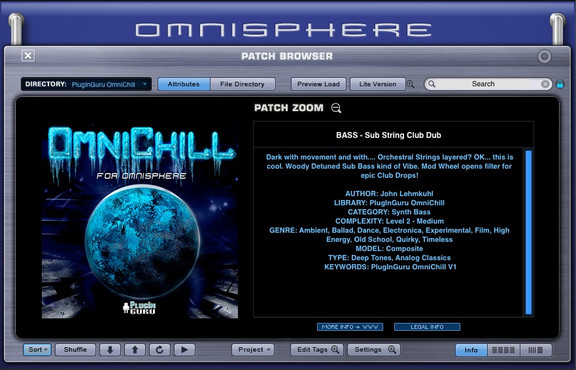 There are 110 patches including sub basses, special FX, Guitar Layers, Piano Layers, Leads, Pads and more. Every patch has the modulation dialed in to change the sound – sometimes in drastic ways and sometimes in subtle ways.

While the library has more of a chill / laid back set of patches, these patches are useful for virtually any style of music. The library also includes 160 FX Rack presets that can be loaded into the A, B or Common effect layer racks. These can finalize a track with EQ, compression and limiting or can destroy a track with distortion and vintage sounding delays. These are helpful to speed up the programming process and can give your own programming added depth with professionally designed FX set ups.

Along with these patches is a second product, OmniChill Video Power Pack, which consists of five video tutorials that John "Skippy" Lehmkuhl created while making the patches in the library. Over 10 patches in the library are created during these 3-hours of video tutorials. You will learn basic programming tips as well as learn advanced techniques while watching how patches that are in the library are created. The first of the videos "Synthesis Introduction and Modulation Fun" is on YouTube and can be watched for free.
The libraries are on sale for $27 USD each until January 5th, 2015 (regular $30 USD). Additional discounts are available with a purchase of multiple libraries.
More information: PlugInGuru