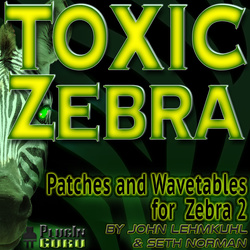 PlugInGuru has released TOXIC Zebra, a soundset featuring 135 patches and 33 wavetables for the Zebra 2 synthesizer instrument by u-he.
TOXIC Zebra is the first set of patches created by John Lehmkuhl and Seth Norman pluginguru.com for U-He.com'serful Zebra2 synthesizer. This library was. With a synthesizer as flexible as Zebra2, it's always great to have more than 1 programming "vision" – because everybody hear things differently. So having two programmers making this library means you have even more of a diverse range of sounds to work with.

Without a doubt, this is a TOXIC library with some EDM synth sounds designed to be powerful, and aggressive. However, every patch is not TOXIC (if that makes sense). Many of the sounds are intended to work well in film projects, commercials, pop music and other genres beyond DubStep/DeepBass/DnB.

Each of the patches has been programmed to use the 4 XY Real-time panels as well as the Modulation wheel to change each Patch radically. So while there is 1 Bright Unison Sawtooth Pad, using the XY2 control pad on the "Perform" page a user can make literally hundreds of different sounding pads because it's changing thru the wavetables in the patch. This level of flexibility is a key PlugInGuru feature found in all of their libraries.

On top of the patches, there are over 30 new custom Wavetables to work with the subtractive Oscillators in Zebra2. These can help a user get more of the modern radical spectrum type of sounds out of Zebra2. These new wavetables are used to make many of the patches in this library.
The soundset is available for purchase for the introductory price of $29 USD until March 15th, 2015 (regular $35 USD).
More information: PlugInGuru / TOXIC Zebra