German Beat magazine has launched a plugin subscription portal called Plugs & Samples, offering all the DVD content of the magazine for download to subscribers of the service.
The content includes 8.5 gigabytes of VST/AU plugins, instruments, effects, audio software, samples, loops, sound banks etc. "Everything a producer needs", as they claim.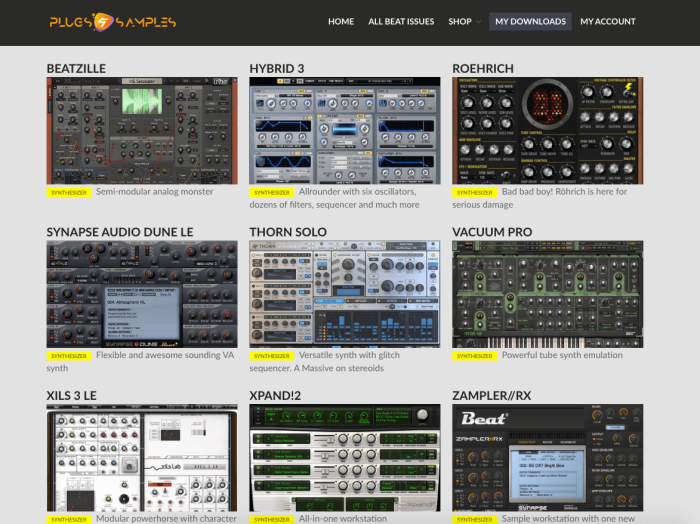 The monthly issues usually come with two highlight plugins, which are either Beat branded versions of existing plugins, with a slightly reduced feature set, or full software versions.
The latest highlights include plugins like u-he BeatZille, Thorn Solo, a monophonic edition of Dmitry Sches' flagship synth, Xils StiX LE, Hybrid 3 and Vacuum Pro by AIR Music Tech, but also full DAWs like Acid Music Studio, Sonar Home Studio are part of the content from time to time.
"We've been asked for a digital subscription model so many times, that we felt the need to push this project. Especially non-german customers, who buy the mag only for its DVD contents, will benefit from this service a lot. Instead of buying the print magazine and waiting for its delivery they now can subscribe and download plugins, instruments and samples instantly" says Marco Scherer, developer of the portal.
The three available subscription plans differ in duration and price, starting at 4.99 EUR per month. Access is offered to three or twelve future issues, whilst the largest plan – called Platinum Plus – also adds access to all back issues, a total of 64 at the time of writing. This said, it is important to mention that the license contingent of some plugins is limited. On the other hand the licenses never expire. Even after a subscription ends, the licenses will still be valid.
Just like the magazine, the content is updated every month. Once logged in with a valid subscription you can browse the available issues and select the software you want to download individually, so there is no need to download the entire DVD disk image.
According to the Plugs & Samples staff, the upcoming highlights will include full versions of Ozone Elements 8, Audified's STA Preamp 2 and Strum Session by Applied Acoustics.
More information: Plugs & Samples