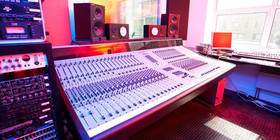 Point Blank Online has announced a new intensive 1 Year Music Production and Business Diploma course.
You: Love music – you eat, breathe and sleep it. You go out clubbing to it every weekend, you play in a band, you manage acts, you DJ, you want to produce music – whichever role fits you best, it's a massive part of your life and you are determined to make your mark – to make music your career.

Point Blank Music College: Is the undisputed champion of music production schools, with courses that set you up with the practical skills to gain a foothold in the Music Industry that no other 'institution' can match.

Intensive Music Production and Business Diploma: Is full-on with a whopping 3 full practical lecture days per week; it consists of nine 12 week modules running concurrently over three terms and comes with as much practice time as you can handle in Point Blank's award-winning studios in London. Class sizes are strictly limited and each student has their own state-of-the-art Apple workstation in class. Your tutors are professional music producers and artist management who have worked with successful recording artists ranging from Sugababes and Jamelia, to Florence and the Machine and La Roux, to Massive Attack, Calvin Harris, NERO, deadmau5, Kelis – even Bob Marley!

Exclusive Online Resources: As well as access to the Point Blank studio facilities 7 days a week, students on the Intensive Music Production and Business Diploma course gain access to an innovative range of online resources from Point Blank's forward-thinking online school: Logic Beginners, Logic Advanced, Sound Design, Art of Mixing, Mastering and 2 genres specialities of your choice. These courses retail at £4,235.
The 1 Year Diploma is enrolling now for January 2012. Please call for details or to check out Point Blank's facilities on the studio tour which takes place every Wednesday at 3pm. Call first to book a place on 0207 729 4884.
More information: Point Blank London