Polyend has announced the release of a firmware update for its Tracker standalone hardware tracker workstation, adding the timely introduction of onboard games into an otherwise musical mix, allowing users to take a breather from music-making and refill their creative juices.
Tracker incorporates the quintessential characteristics of a classic software tracker as its vertical timeline, powerful sequencer, and mechanical keyboard combine with an innovative input interface design to make and perform music in a new and intuitive way.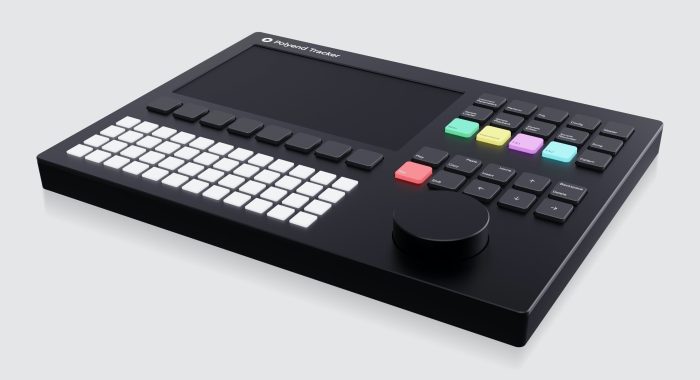 Firmware version 1.3.0 includes new MIDI CC input, MIDI micro-tuning effects, tuning effects, MIDI chord functionality, and much more. Tracker users can now also enjoy playing onboard games gifted to them by Polyend.
A retro form factor updated with forward looking functionality and designed as an easy to use compact standalone workstation. Made for creatives who break patterns on a daily basis. Designed to help artists forge unique avenues of sonic construction. Introducing the first hardware tracker in the music world.
Changes in Tracker firmware v1.3.0
Per step MIDI Chords.
MIDI Microtune step Fx.
Performance mode is now controllable via MIDI input.
Master mixer levels are now controllable via MIDI input.
Tracker can now be configured to send 6 distinct MIDI CCs per MIDI channel.
Added support for sending MIDI channel aftertouch and polyphonic aftertouch.
MIDI instruments in Pattern mode can now be present without a note (specify which MIDI channel to send CC).
MIDI delay compensation for external clock sources in Config.
Tune step Fx.
Track Arm Recording.
Live Audio Line Input Monitoring is now available during song playback.
Long Sample Importing.
Lo-quality Importing (saves sample pool memory time).
Delete unused samples.
Timestretch Fx in Sample Editor.
Bit depth available as step and Performance Fx's.
Transpose octaves by turning the Jog-wheel with Shift in note editing.
Enhanced Pattern Fill command: Euclidean fills, density setting in Random fills.
Rewritten from scratch rendering mechanism.
5-band master EQ.
Bass booster.
Stereo enhancer.
Updated Limiter with gain reduction meter.
Line Input can now be a Sidechain source for the Limiter.
Onboard games are now available to catch a breather from a hard day of music-making.
Polyend's Preset preset recaller and sequencer (now with Euclidean sequencing implementation) is now open source, so expect even more flexible functionality to be happening as a result, while French next-generation musical instruments manufacturer Expressive E's Carbon sound expansion is now available for Medusa, the Dreadbox and Polyend Hybrid Synthesizer.
Tracker is priced 499 EUR / $599 USD.
More information: Polyend