PolygonSheep has released version 1.0.2 of Stealth Delay, a versatile multi-effect delay plugin for Windows and Mac.
The update offers several optimizations, improvements and fixes along with VST3 support for both Mac and Windows.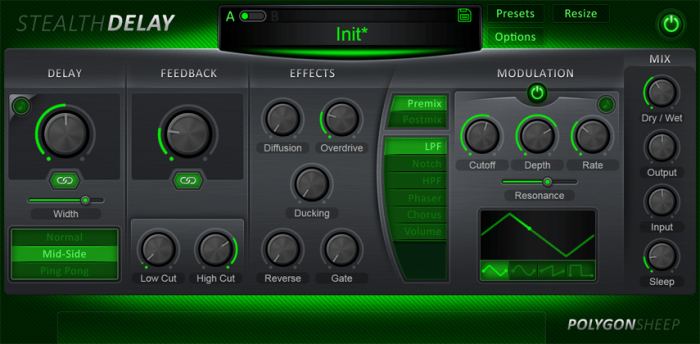 Stealth Delay is a professional stereo delay plugin with a multitude of high quality effects and filters to take your audio tracks to new spaces.

It features independent left & right delay controls, independent feedback controls, high quality non-modulated effects, and a host of modulated effects including 3 filter types, a phaser, chorus, and volume.

The GUI is resizeable to accommodate high resolution monitors and allows customization through 12 different color schemes. Mouse over tool tips will tell you exactly what each knob does so you're never lost.
Changes in Stealth Delay v1.0.2
Added VST3 support.
Auto-fill preset save dialog for quicker preset change saves.
Added 75% GUI scale size, now supports between 75% and 200% scaling.
Windows XP (SP 2) support.
Improved compatibility with Cubase on Mac OS X.
Fixed incorrect display value that could happen when using tempo synced delay times.
Small bug fixes and improvements.
PolygonSheep has extended the intro price of $29.95 USD through December 31st, 2016 (regular price $39.95 USD).
More information: PolygonSheep