Toontrack has announced the release of the Pop Punk EZX, a new sound library expansion for EZdrummer 2 and Superior Drummer 3 featuring drums recorded by acclaimed engineer/producer John Feldmann.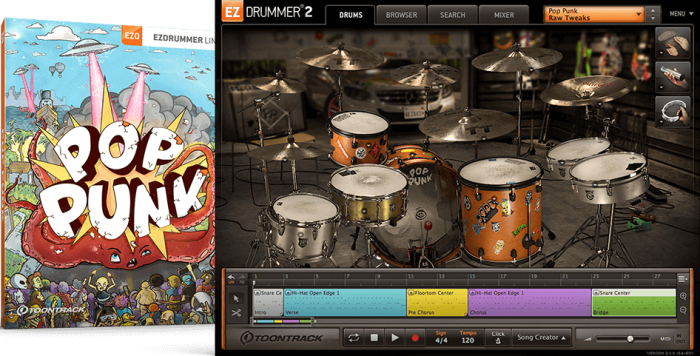 The Pop Punk EZX was recorded at the personal studio of John Feldmann, a Los Angeles-based producer/engineer/mixer who's had a monumental impact on the last couple of decades of popular music.

The EZX includes three full kits, all capturing that larger-than-life and all-American radio-friendly sound of the commercial and hook-driven pop punk music that has been a mainstay since acts like Blink-182, Simple Plan and Green Day broke onto the scene around the turn of the millennium.

Welcome to a collection of drum sounds that is tailored for high-end pop punk and ready for the airwaves.
Pop Punk EZX features
Produced/engineered by John Feldmann (Good Charlotte, Blink-182, 5 Seconds of Summer).
Recorded at Feldmann's personal studio.
Three (3) full kits (SJC Custom and Tour series, Orange County D&P).
Mixed using samples from John's personal collection.
Seven (7) snare variations, four (4) kicks and 12 cymbals.
15 custom presets engineered by John Feldmann as well as an additional 11 engineered by Toontrack.
All presets also available with a "No Bus FX" option, designed for multi-out purposes.
A collection of MIDI drum grooves included.
The Pop Punk EZX is available now priced at 69 EUR / $89 USD.
More information: Toontrack