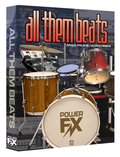 PowerFX has released All Them Beats, a collection of regional, stylistic and historical beats and rhythms in MIDI, REX and Wav formats.
True to the PowerFX signature, the extensive beat library is expertly produced and organized within three categories, including: "Regional" featuring Brazilian (bossa nova and the samba), African, European, and other regional beats; "Genres" showcasing jazz, rock, country, and blues styles (Chicago shuffle, Texas shuffle); and "Greatest Breaks" such as the Funky Drummer, The Amen Break and Walk This Way, among many others.
All Them Beats features
1.42 GB library including 430+ MIDI rhythm and beat files and over 1,000 acidized wav loops and rex files.
MIDI files were recorded live with an electronic V-Drum kit, assigned to General MIDI files.
Each MIDI file has been assigned appropriate sounds and tempo and has been exported as an acidized wav file and REX file.
Bonus selection of drum loops culled from PowerFX's award-winning samples.
All Them Beats is available as a download and on DVD for $69 USD. The MIDI files are also available as a separate download for $39 USD.
Visit PowerFX for more information and audio demos.