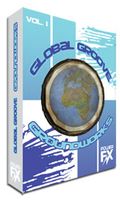 PowerFX has released Global Groove Groundworks Vol.1, a collection of indigenous percussion loops (REX).
Uncovers traditional beats of the ages with indigenous percussion loops from India, Algeria, Congo, Turkey, Ghana, South Africa, Iran, Nigeria and Pakistan on instruments like Darbuka, Djembe, Dholak, Tabla, Frame Drum, Log Drum, Udu, Bendir, Ganjira, Crashbox, Mridangram ,Talking Drums, World Drumset Beats and more.
Global Groove Groundworks Vol.1 features 396 RMX compatible Rex2 files for Reason, Stylus and other Rex2 reading software for maximum tempo control.
The library is available as an instant download for $69 USD.
Visit PowerFX for more information and audio demos.