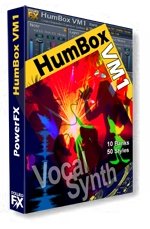 PowerFX has released HumBox VM1, a VSTi synth with advanced structure for manipulating sounds that allows a quick creation of quality backing vocals and solo lines, realistic scat melodies and original sound effects.
It sounds unique as a melodic line, scat or backing vocal simulation as well as an effect for a Movie & Game soundtrack. VM1 is very sensitive to what you're playing. Press a few MIDI keys and you'll feel it! Listen to demo examples and have a blast using the HumBox!
HumBox VM1 features
10 Voice Banks and 50 Styles, so each virtual vocalist has a few variations, in which he or she can perform.
Banks and Styles are named to help identify specify vocal character.
All Styles can be used in Solo, Dual or Poly mode, which increases possibilities for the user.
Automatic "phrasing" and "breathing". VM1 has phrase Volume and Pitch envelopes and inserts noises in pauses, which animates the voices considerably.
Context Dependent Expressive Synthesis — an advanced system of patch parameters calculated on the base of musical context: Velocities, Note Numbers and music Intervals.
Easy interface with intuitive controls amd QuickHelp.
HumBox VM1 is available as a VST instrument for Windows PC for $49 USD.
Visit PowerFX for more information and a demo mp3.