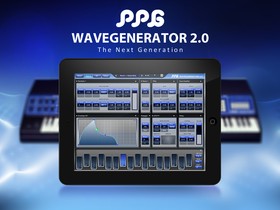 Wolfgang Palm has released the PPG WaveGenerator, a next generation synthesizer for iOS, building on the heritage of the PPG Wave keyboards.
The PPG WaveGenerator comes with a multitude of wavetables. The sound material contains the typical sounds from the original PPG wave models, as well as many new sounds generated by versatile analysis tools and also hand edited waves.

This app enables the user, to create his own wavetables in a playful way, and to hear the result immediately. Also you can construct the waves by adding harmonics very precise. Another way is to transform a picture into a wavetable. You can load photos from your album or even shoot a picture with the camera.
PPG WaveGenerator features
Creation of your own waves and wavetables.
Playful sound creation simply by drawing or picking harmonics.
3D page, visualization of the wavetables, transformation from photos into wavetables.
256 waves assembled within a wave grid.
3 Audio Oscillators.
3 Noise generators, for audio and modulations.
Classic 24 dB Lowpass Filter, combined with an overdrive simulation.
Dual amplifier, for versatile control of 2 audio signals as well as panning.
13 Envelopes, for control of pitch, waveform, filter, noise, gain, and panning.
4 LFOs.
Arpeggiator.
Delay/Reverb effect.
Audio engine with 2 synthesis modes, and variable wave blending quality.
Directly accessible context help inside the app.
Use a camera, to shoot a picture and then transform it into a sound!.
Using state of the art technologies, but still the versatile and efficient synthesis system.
Build your own keyboard, with the keys you prefer for your music.
The PPG WaveGenerator for iOS is available at the iTunes App Store, priced at $19.99 USD.
More information: PPG WaveGenerator / PPG WaveGenerator