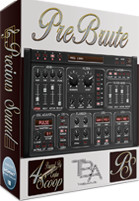 Precious Sound has announced PreBrute, the worlds first sample based Kontakt synth based on the Arturia MiniBrute.
We were lucky to get our hands on one and decided that it would be a ideal synth to sample for our engine. We have spent many months painstakingly sampling the synth with 4 different signal chains.

Our flavour system is just that you can select along the 4 oscillators what waveform and flavour (sampling chain) to choose from, so you have 20 waveform choices but 80 possible choices per Osc including the different flavours.

While sampling PreBrute we pushed our preamps hard to imprint characteristics of the actual pre to the sound resulting in subtle/extreme changes.

We also tracked the raw sound to cassette tape using a Tascam 122mk3, we tracked at a slow speed to naturally roll off some of the high end giving the tape waveforms a really warm and smooth sound.
PreBrute features
2.16GB Kontakt 5 Library.
7,612 24bit samples.
"4Scoop" engine for Kontakt.
Includes 45 presets.
PreBrute is available at a special 25% off festive discount until January 7th, 2013, priced at £30 GBP (regular £39.99 GBP). Prices inc. VAT. Owners of any "4Scoop" based product are entitled to a additional 10% discount part of a newly established Loyalty Scheme.
More information: Precious Sound / PreBrute