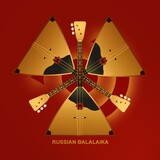 Precisionsound has announced the release of Russian Balalaika, a very detailed sampled Balalaika for NI Kontakt, EXS24, HALion and SoundFont.
The recording was made in the "Usachevsky" studio at the University of Utah, and the instrument was played by Igor Iachimciuc and edited by Lars Westin, KSP script programming was made by Iain Morland.
Russian Balalaika features
1,250 24bit mono WAV files of a Russian 3 stringed (2 E strings and 1 A string) Balalaika.
Articulations recorded separately for both the E and A string: Up, Down, Thumb, Flam, Mute, Unison EA, Unison EE, Tremolo (3 variations but same speed), Harmonics, FX1, FX2 and Fretnoises.
Includes 2 types of programs: "Solo" and "Group" (NI Kontakt, EXS24 & HALion versions only).

"Solo" programs are one single Balalaika
"Group" programs are a mix of 3 different notes and articulations played at the same time to build a unison feel of 3 (6 in NI Kontakt 3 and 4 if the String mix is set to 50% using the KSP script programs) unique Balalaika players.

Speed control of the tremolos is only available in the NI Kontakt 3 & 4 programs.
Russian Balalaika is available to purchase as a download for $69 USD (+$11 USD on DVD); all formats are included.
More information: Precisionsound / Russian Balalaika