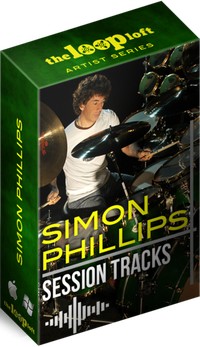 The Loop Loft has announces that it has partnered with audio-hardware maker, PreSonus Audio Electronics, to offer a FREE copy of its Simon Phillips Session Tracks drum-loop library with any upgrade to Studio One Professional 2 music-production software within April 2013.
PreSonus Studio One is a new, integrated approach to recording music, from tracking to mixing to mastering and distribution. It is a creative environment built for intuitive use, speed and efficiency –– and yet it is sufficiently robust for the most complex productions.

Simon Phillips Session Tracks is a broad-ranging collection of rock drum loops recorded by master drummer Simon Phillips that enable anyone to build rock songs. Producers can employ Phillips's grooves, which include parts inspired by some of rock's greatest moments, from AC/DC to Led Zeppelin to ZZ Top –– all recorded live at Woodcliff Studios in Los Angeles. Simon Philips, whose drumming career highlights include stints with Jeff Beck, Pete Townshend, Gil Evans, Stanley Clark, Frank Zappa, Peter Gabriel, Joe Satriani, Mick Jagger, Toto and The Who, is also an accomplished recording engineer and producer.

Producers can build songs in Studio One with Simon Phillips Session Tracks as easy-to-use stereo tracks, or they can create custom drum mixes using the multi-track format, which enables them to add effects and EQ to the individual drum tracks. Like all content from The Loop Loft, Simon Phillips Session Tracks have been painstakingly edited and programmed to work seamlessly and instantly in Studio One.

Studio One Artist empowers users with unlimited track counts and plug-in instantiations as well as comprehensive editing features. Users upgrading to Studio One Producer add the complete features of Studio One Artist, plus support for ReWire and AU/VST plug-ins, MP3 import and export and additional third-party content for wider utility and creative power. For producers and creators who want it all, PreSonus Studio One Professional delivers all of the features and capabilities found in Studio One Artist and Producer plus the Project page, an integrated mastering solution; fully licensed Melodyne™ Essential pitch correction; SoundCloud™ support; Red Book CD burning; video playback and sync and additional Native Effects plug-ins.
More information: PreSonus / The Loop Loft