PreSonus has introduced its new R65 and R80 active studio monitor speakers, which offer a custom Air Motion Transformer (AMT) tweeter, delivering an extremely fast transient response to provide exceptionally detailed resolution.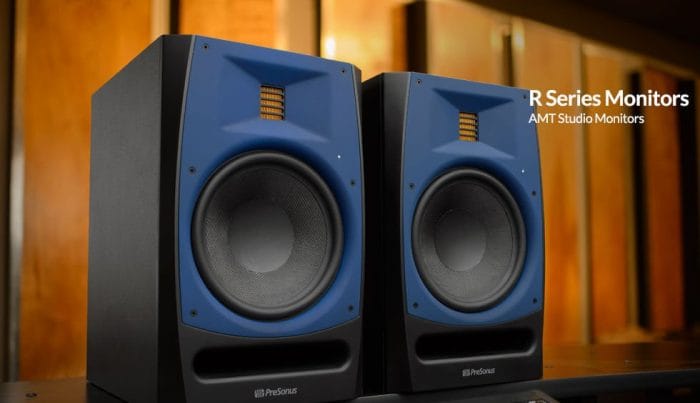 These biamped monitors feature Class D power amplifiers, with 100W RMS driving the woofer and 50W RMS driving the AMT tweeter, making them some of the most powerful monitor speakers in their category. As with all PreSonus® studio monitors, both models are equipped with the company's lauded Acoustic Tuning controls.

Both the R65 and R80 employ a 6.8-square-inch AMT tweeter that responds to the subtlest waveforms and high frequencies, making them an ideal choice for hearing ultra-highs that add "air" and a sense of space. PreSonus R-series monitors offer wide lateral dispersion for a broad "sweet spot," along with very narrow vertical dispersion, which helps reduce ceiling reflections that can muddy the sound. This helps to minimize room anomaly interference, providing a more consistent sound in different listening environments.

The R65 employs a 6.5-inch, coated Kevlar® woofer, while the R80 sports an 8-inch woofer. This design results in cohesive, less time-smeared audio with minimal coloration and extremely punchy bass.

The Acoustic Space switch controls a second-order, low shelving filter that helps to compensate for the boundary bass boost that occurs when the monitor is placed near a wall or corner. An HF-driver level control is also provided to help mitigate room problems. An onboard, four-position highpass filter makes it easy to integrate a subwoofer into your monitoring setup

Balanced XLR and ¼" TRS and unbalanced RCA input connections make hookup quick and easy. Safety features include RF shielding, current-output limiting, over-temperature protection, and subsonic protection. Frequency response is rated at 50 Hz to 25 kHz for the R65 and 45 Hz to 25 kHz for the R80. An optional amplifier Standby function helps conserve energy.

The R65 and R80 and the new Eris™ E44 and E66 MTM monitors are welcome additions to the PreSonus range of studio monitors. The line also includes the Ceres C3.5BT and C4.5BT, which feature Bluetooth wireless and flexible I/O for home use; the Eris E4.5, E5, and E8, which deliver pro quality for personal studios; the Sceptre S6 and S8 coaxial monitors, with best-in-class Z-plane imaging; and the Temblor T8 and T10 active studio subwoofers.
The PreSonus R65 and R80 are available for $399.95 USD and $499.95 USD, respectively.
More information: PreSonus / R Series Monitors