PreSonus has announced it is shipping its new Temblor T10 subwoofer.
Designed to complement full-range studio reference monitors-including the PreSonus Eris™ and Sceptre™-without overshadowing them, the T10 is intended for serious personal studios and professional music-production environments, offering a tight low end due to fast and accurate transient response and providing user controls not normally available in this price range.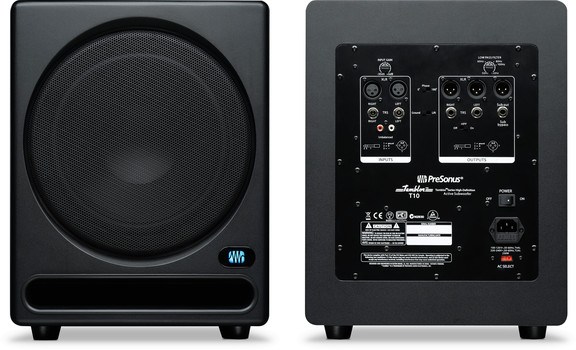 The T10 features a 10-inch glass-composite woofer, driven by 250 watts of Class AB power; a front-firing, bass-reflex acoustic port; optimized, resonance-suppressing internal bracing; and internal damping and heat sink. Frequency response ranges from 20 Hz to 130 Hz.

The new subwoofer sports left and right, balanced XLR and ¼" TRS and unbalanced RCA main inputs; if both XLR and TRS inputs are connected, the TRS input takes precedence. The T10 has left and right balanced XLR and ¼" TRS outputs and an extra subwoofer output for connecting a second T10.

Extensive user controls include input gain (-30 dB to +6 dB, continuously variable) and a continuously variable lowpass filter (50 Hz to 130 Hz) that allows users to create a seamless crossover transition between their full-range studio monitors and subwoofer for a more accurate listening environment. A switchable highpass filter removes frequency content below 80 Hz from the full-range signal sent from the T10 outputs to the main monitors, avoiding destructive cancellation and reinforcement in the T10's upper range.

The T10 also features a momentary footswitch (included) that bypasses the subwoofer, highpass filter, and Sub Out. This allows the audio source signal to pass directly through the Temblor T10 to the full-range studio monitors, enabling you to compare your mix with and without subharmonic frequencies to ensure your mix will sound good on a wide variety of systems.

You also get polarity invert and a ground-lift switch. The 15.75″ x 15.75″ x 12.6″ (400 x 400 x 320 mm), 39.5 lb. (17.9 kg) enclosure has integrated, gravity-calibrated rubber feet for stable placement.
The Temblor T10 is available to purchase for $399.95 USD (MAP/street price).
More information: PreSonus / Temblor T10