PreSonus has announced it is shipping Progression 3, a major upgrade to its popular composing software for guitar, bass, and drums.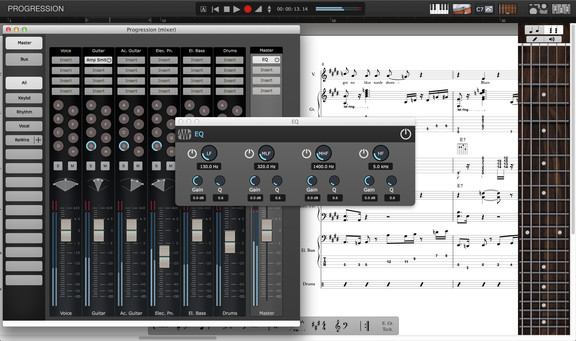 This new version makes it easier than ever to write your ideas quickly and includes an enhanced chord library, new effects from PreSonus Studio One®, a Capo feature, and many notation and publishing improvements. Progression and its sibling product Notion are the only composing and notation applications that let you create and edit with, and exchange files between, Mac, Windows, and iPad.

This is the first update since Progression joined the PreSonus family, and it shows. The user interface has been redesigned to more resemble Studio One and other PreSonus software, and Progression 3 adds PreSonus Native Effects™ Limiter, Compressor, and EQ plug-ins.
New in Progression 3
PreSonus plug-ins: Includes three PreSonus Native Effects™ plug-ins from Studio One®: Limiter, Compressor, EQ.
Notation and tab: Many notation and tablature improvements make Progression the fastest and easiest composition software on the planet, including new enharmonic spelling tool, cross-staff notation, layout improvements, and new shortcut sets. There's a new Capo feature, too!.
Chords: An enhanced chord library provides more library chords, user created chords, and Recent Chord Recall.
Look and feel: The user interface has been redesigned to be more consistent with PreSonus' award-winning Studio One DAW.
International localization: Available in English (U.S. and UK), French, German, Japanese, and Latin American Spanish.
Display: Mac Retina display and Windows 8 touchscreen optimization.
Progression 3 has an expected MAP/street price of $49 USD.
More information: PreSonus / Progression 3