Plugin Boutique has announced a St. Patrick's Day sale on PreSonus, offering discounts of up to 25% off on its digital audio workstation and music notation software for a few days only.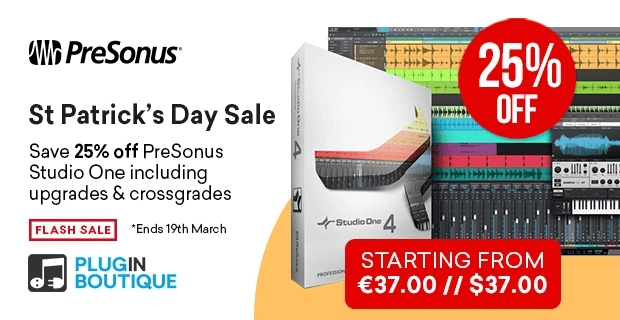 Studio One 4 was designed with ease of use at its core.
It seamlessly combines the time-tested and proven recording studio model with today's beat- and loop-oriented production process so you can bring musical ideas to sonic reality more quickly than ever before. An efficient, single-screen interface houses an unlimited number of tracks, intuitive editing tools, and advanced virtual instruments. Spend your precious time creating music instead of wondering what to click next.
Bring musical inspirations to life with the blazingly fast and intuitive Notion 6 music composition and performance environment.
Compose when and how you want and even enter music with your own handwriting. Take projects to the next level with deep integration with Studio One. Hear and perform music with gorgeous samples by the London Symphony Orchestra and others. Deliver polished scores faster than ever before, from complete film orchestrations to simple lead sheets and guitar tab.
The promotion includes upgrades and crossgrades, as well as bundles of both software titles. Prices are starting from $37 USD / 37 EUR.
The offer expires March 20th, 2020.
More information: PreSonus