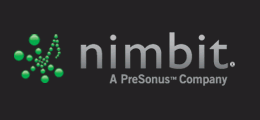 PreSonus has announced it has acquired Nimbit and integrated its technology and services into Studio One Artist, Producer, and Professional to provide a complete solution for music and audio creation, sales, and promotion.
With integrated Nimbit, Studio One users can:
Instantly sell and promote their music and audio the moment it is created.
Sell MP3s, CDs, merchandise, and event tickets through beautiful stores for their Facebook pages, their Web sites, NimbitMusic.com, and services like Jango, FanBridge, and PledgeMusic.
Create sharable, interactive promotions for Facebook, Twitter, and email that feature music and video players, messages to fans, and free downloads to drive sales.
Grow their fan base and understand their fans better thanks to detailed analytics and sales reporting.
From Studio One Artist, Producer, and Professional v.2.0.6 and later (with the free Nimbit Extension), you can select an individual song right from the start page, or select File >Export and upload to Nimbit. You then add details, upload a product image, and set a price, and your music will be immediately available for sale.

Studio One Professional users will reap additional benefits. When you export to Nimbit from the Project page, your project metadata pre-populates the Nimbit product setup, allowing you to sell and promote your music almost instantaneously.
A Complete Solution
With the addition of Nimbit technology and services, Studio One users can now go from creating the first track to marketing and selling a finished project, all within Studio One and associated Web sites. Studio One Professional users can record, mix, master, digitally release, burn CDs, upload to the Web via SoundCloud, and market and sell through Nimbit without leaving the DAW.
In short, Studio One has become a complete musician's solution.
Registered Studio One 2 customers will be able to download the Nimbit Extension free from the PreSonus Exchange. Having installed the Extension, they can sign up for a Nimbit Free or Nimbit Plus account from within Studio One and start selling and promoting their music.
The benefits of Nimbit are not limited to PreSonus Studio One customers. Anyone who would like to sell and promote their music, other audio products, and merchandise can sign up at www.nimbit.com or can install the free Nimbit store for Facebook.
The integration will be available on August 1, 2012, via a free Nimbit Extension for Studio One 2.0.6 and later.