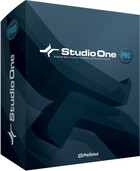 PreSonus has released version 1.6.2 of Studio One, a music product software for Windows and Mac.
Studio One changes the rules of the game with fresh code, innovative drag-and-drop MIDI mapping and plug-in management, auto-configuration with PreSonus hardware, insanely good audio quality, unlimited tracks and plug-ins per track, and a powerful, inventive Start page.
Changes in Studio One Pro / Artist v1.6.2
Browser navigation speed improved.
Rare crash when using the preview player.
Japanese translation errors.
Tempo map in MIDI export is not correct.
[Mojito] Hanging notes and crackles can occur.
[Pipeline] Clip Led could not be reset.
[Pro EQ] Micro view is not updated correctly.
Crash when dragging FX chain and instrument preset to empty mixer.
The version 1.6.2 update is available to download for registered users Studio One users. Note: Saving is now possible in the Demo version.
More information: PreSonus / Studio One