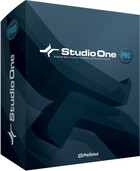 PreSonus has released version 1.6.1 of Studio One, a music creation and production application for Windows and Mac.
Studio One changes the rules of the game with fresh code, innovative drag-and-drop MIDI mapping and plug-in management, auto-configuration with PreSonus hardware, insanely good audio quality, unlimited tracks and plug-ins per track, and a powerful, inventive Start page.
Changes in Studio One v1.6.1
General Changes:

Added Japanese language support.
Split channel option for Keyboard devices.
When renaming events, numbers can be added automatically.
The Normalize function now normalizes to -0.1 dB.

Fixes:

Adjusted the process handling that could create CPU spikes with other host programs or plug-ins (e.g., Kontakt, FL Studio, and jBridge).
Parameters from different instruments could not be dragged onto the same automation track.
Real-time mixdown could create crackles on some systems.
MPK49 device transport controls were not working. (Also removed encoders from mixer pan for easier Control Link assignment.).
Fixed redraw bug in instrument rack.
Loading a Studio One 1.5 song with Pipeline disabled crashed the program.
Delay Compensation was not working correctly for channels using a sidechain input.
Audio recording delay after changing buffer size and restarting.
Improved auto-punch with loop recording enabled.
Mac OS X: Edit box navigation for Channel names and Track names not working.
Dialog buttons (OK, Cancel, etc.) could not be triggered using the Space or Return keys on keyboard.
Removal of a Song folder when the Song is closed without saving was not working if any audio tracks were armed.
Sample One: LFO-sync drop-down menu not working.
Pipeline: the Return scope not working with 4 KB buffer size.
Presence: Crackle at certain amplitude-envelope settings.
Mojito: Hanging notes.
The version 1.6.1 update is available to download for registered users Studio One users.
More information: PreSonus / Studio One