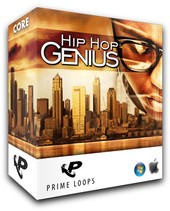 Prime Loops has released Hip Hop Genius, a sample library featuring 10 phat and organic sounding Hip Hop Construction Kits.
Are you ready for a full truckload of genius beats and breaks from the heavy side of the street? We're bringing you straight-up hip hop vibes ready to roll in the club, keeping heads nodding from the first bar to the last, lets take it back to where it's supposed to be and ride high with real big hitters like DJ Premier, Big L, The Alchemist, Mobb Deep, Jadakiss and Royce Da 5'9″ all the way through to Talib Kweli, Dilated Peoples, J Dilla, Lupe Fiasco, D.I.T.C, Freddy Foxx, you know where it's at!

Lets go! Hard-knocking kicks, crisp snares, orchestral licks and dramatic chords as they flow through your sequencer, then lay down your overdubs or grab the mic and let rip over the 10 bonus pre-mastered full-length beats.

You also get ten diverse construction kits, presented as completely separate tracks to allow real hip-hop geniuses to mix and blend their own flavas. Tempos range from 69-110bpm, giving you the fullest range of expression, and the perfect tools for any hip hop jam.
Hip Hop Genius is available for instant download for £8.98 GBP in the SuperProducer Sale (50% off regular price of £17.95 GBP).
More information: Prime Loops