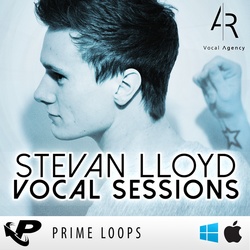 Prime Loops has announced Stevan Lloyd Vocal Sessions, a new vocal sample library.
In all the excitement of producing your next EDM or Pop smash, vocals can often get overlooked. It's only when you take a step back from tinkering with those rumbling basslines and smooth beats that you realise there's nothing left in the budget for an accomplished vocalist. You can either autotune yourself singing in the shower (it's cheaper than a vocal booth, right?) or invest in a professionally mastered set of highly original vocal samples from the finest talent on the scene, for a fraction of the cost of hiring them in person. So we've borrowed one of the brightest young voices on the London scene from AR Vocal Agency in the form of vocal powerhouse Stevan Lloyd.

Crooning in at 350MB, Stevan Lloyd: Vocal Sessions will ply your productions with over 140 individual samples, each finished at a pristine 24-bit sample rate – that's some seriously High Definition sound quality right there. Available in multiple formats to run with any of your favourite software samplers, this brand new EDM vocal library delivers 4 folders of Adlibs, Choruses, Hooks and Verses with a sub folder of Backing Vocals in each. From the smoothest adlibs to strongest, most soulful choruses to infectiously catchy hooks and utterly entrancing verses, you can merge any of these vocal samples with your mix by simply dragging and dropping them from the download folder into your DAW and they'll sync automatically to match the key and tempo of your mix. You can even adapt the tempo by clicking the end of the sample in your mix and adjusting its length – drawing it out or squeezing it down and that insanely clean sound clarity will remain intact.
The sample pack costs £27.95 GBP.
More information: Prime Loops