Plugin Boutique has launched a sale on the FabFilter Pro-DS, offering a 25% discount on the de-esser plugin for the next few days.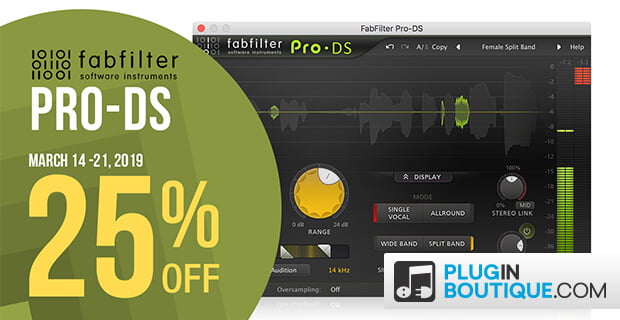 Every mix or mastering engineer often has to deal with over-sibilant vocals. Even when using the best microphones, pre-amps and converters, 's' and 't' sounds can easily get over-accentuated during post-processing like compression, saturation or limiting. For all these cases, FabFilter Pro-DS comes to the rescue!

With its highly intelligent 'Single Vocal' detection algorithm, it accurately and transparently attenuates sibilance in vocal recordings. Plus when using Pro-DS in 'Allround' mode, it's a great tool for high-frequency limiting of any material, like drums or full mixes.
Pro-DS is on sale for $134 USD until March 21st. Note that this deal is not available to EU customers.
More information: FabFilter