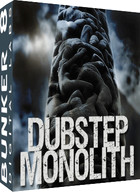 Producer Loops releases Dubstep Monolith, a 3.4GB collection of construction kits for Dubstep producers from their content partner Bunker 8.
Tripped out delay percussionisms, super sub distil basses, epic transit fx's, LFO wib wobble basses, depth spawned vocalisms, this collection is sure to please every dub bass enthusiast as well as drawn in composers who wish to inject their tracks with the mysterious shadows that encompass this excitingly demented music form.
Dubstep Monolith features
3.4 GB collection of construction kits presented in ACID/WAV and Apple Loops formats.
Each kit contains a full sample mix, plus all of the elements separated.
Includes single hit samples in Battery 2, Kontakt 2, SampleTank, GigaSampler, HALion and EMU formats.
All beats have been processed using Neve, Soundcraft and SSL consoles at the mixing stage.
Dubstep Monolith is currently available as a download exclusively at ProducerLoops.com for £21 GBP.
Visit Producer Loops for more information and audio clips.