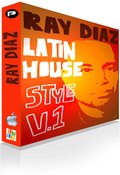 Producer Pack has released Ray Diaz – Latin House Style v.1, a Latin House sample pack from New York born, Latin American record producer / musician Ray Diaz.
This superb 700 MB collection of over 1299 royalty free samples was created by prolific producer Ray Diaz. It contains high quality musical patterns, drum loops, Chord hooks, Bass line hooks & Keybord Riffs that will inspire your musical productions and take it to a level where you thought it wouldn't go.
Ray Diaz – Latin House Style v.1 features
700 MB /1,299 24 Bit WAV/REX files.
271 Tribal Drum Loops 125 Bpm & 130 Bpm (Wav & REX), 99 Drum Loops 125 BPM (Wav)
111 Drum Loops 130 BPM (Wav), 38 Loop Drive Madness 125 BPM & 130 BPM, 99 Bass Madness (Wav & REX), 100 Bass Madness (Wav), 101 Keys Madness (Wav), 200 Keys Madness (Wav & REX).
All of the content was mastered by Ray Diaz Pro Tools HD TDM studio using only the best and leading audio production equipment.
Loops are broken down into seperate parts.
Chords & keys have been organised in specific folders and labeled according to what key its in for easy access. All drum patterns are organised in specific folders according to the BPM for easy access.
Absolutely 100% Copyright Free
Ray Diaz – Latin House Style v.1 is available now for £22.95 GBP.
Visit Producer Pack for more information and audio demos.