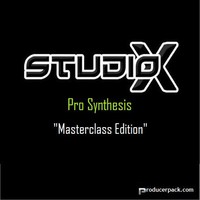 Producer Pack has announced Studio-X: Pro Synthesis Masterclass Edition Volume 1, a collection of carefully crafted cutting edge sounds by author, teacher, artist and producer 'Studio-X'.
From individually exported synthesized kickdrum's to growling and sizzly basslines, this producer pack will load you up with the crisp audio quality and brilliant uniqueness that takes Studio-X all the way around the world.

Whether you produce 'Dubstep', 'Drum and Bass', 'Electro' 'Hard Dance' or any other modern genre with a grinded edge, this producer pack is sure to get you on the track to the quality and professional standard that Studio-X use to work with artists such as: Nick Skitz, Brooklyn Bounce, DJ Proteus, Depeche Mode, Angelspit and many more!
Studio-X: Pro Synthesis Masterclass Edition Vol 1 features
Drum Samples

Synth Kick Drums: Synth Club Kick, Synth Dub-DnB-Club Kick, Synth Hardstyle-Gabba Kick, Synth Kick Nice Release, Synth Modern-Electro Kick, Synth Punchy Kick, Synth Rockabilly Kick, Synth Short-Round Kick, Synth Techno Gate Kick, Synth Tight Kick.
Synth Snare Drums: Synth Dub-DnB Snare, Synth Nice Snare, Synth 808 Snare, Synth 909 Snare, Synth Ultra Dub-DnB Snare.

Loops: 63 x World Class Drum-loops inspired by many modern production techniques. Genre's include: DnB, Dubstep, Electro, Industrial, Trance and many others.
Claps: 10 x Synthesized Claps by Studio-X.
Cymbals: 2 x Synthesized Cymbals (Complete Octave's).
The sample pack is available to purchase for £19.90 GBP.
More information: Producer Pack