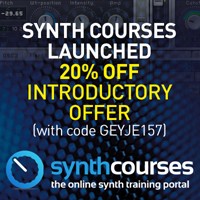 Producer Tech has announced the launch of Soft Synth Courses, a series of online courses on software synthesizers available at Music-Courses.com.
Want to learn how your soft synths work, and how to create your own patches?

Our brand new online courses are now available taking you through the inner workings of some of the most popular soft synths on the market, including Massive, Omnisphere and Sylenth.
Use promo code GEYJE157 at checkout to take advantage of the 20% off introductory offer.
More information: Music-Courses / Soft Synth Courses