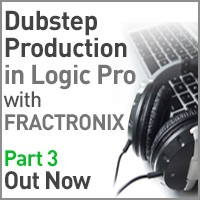 Producer Tech has announced part 3 of the Logic Pro Dubstep Production Course by FracTroniX: Arrangement, Synths and FX.
The third part of FracTroniX's awesome course on Dubstep production in Logic Pro is now available at Music-Courses.com.

This brand new set of tutorials shows how to take a drum and bass groove and turn it into a track, creating accompanying synth parts and FX and showing how to arrange and develop them in order to build a track.
The course is currently on sale at a 25% discount.
More information: Music-Courses / FracTroniX Dubstep Course Part 3