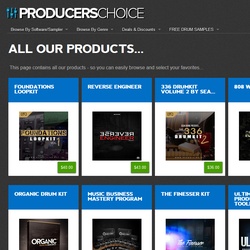 Producers Choice has launched a July 4th Sale, offering a 24% discount on its sample packs and bundles for 24 hours only.
It's July 4th so I had to come at you with a special deal to brighten up your weekend.

If you are looking forward to jumping inside your DAW and banging out some quality beats – then feed your sampler with a few of our freshest treats.

Grab any sample pack, save 24%. You'll feel epic.

Let me sum this deal up for you:

July 4th – 24% off. 24 hours only
Valid on ANY product on our site
Anything your heart desires – add it to your cart, use this code – BLAM you just saved 24%. Here is the code. "july4"
(Fill your cart, click the green checkout button, enter your info, then add the code on page 2)
The sale ends July 5th, 2014. Use coupon code july4 to take advantage of this sale.
More information: Producers Choice