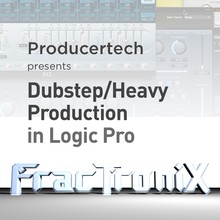 Producertech has announced Dubstep Beat Production in Logic, a brand new online course for Logic Pro, which teaches the secrets of producing Dubstep or similar heavy styles of music.
The course has been created by FracTroniX, the producer behind the eclectic, bass-driven vibes of Metaphra and the upfront, experimental drum and bass of Defazed. Having produced for a multitude of record labels and taught production for a number of institutes, FracTroniX is now sharing his experience and knowledge with the online Music Courses community.

The course takes students through each of the main stages of making a heavy dubstep track and is broken up into parts, which allows students the option of choosing any specific area that they wish to learn about, rather than having to buy the complete course.
This not only makes it more affordable but means people can try out one of the parts before deciding whether to invest in the rest of the course.

The first part on creating beats is now available at Music-Courses.com, and shows each of the processes involved with making a fat dubstep break. The lessons guide you through the various considerations when selecting samples, showing how the samples look on an analyzer to help visualize each choice. The samples are then sequenced into a chunky break, percussion is added to create extra syncopation and rhythmic interest, samples are reversed, then the levels are tweaked to get a good balance. Finally, the drums are processed with insert effects, predominantly compression and EQ, to eliminate problems and improve the sound, before creating a submix track, which allows all the drums to be glued together and fattened up.

After signing up to the course, students can access the streamed module movies, and also download the Logic demo project, which can then be freely edited and examined, to allow each technique to be inspected more closely. At any point, FracTroniX and the other Producertech tutors can be contacted via the forum, which allows Music Courses students and any dubstep enthusiasts to discuss issues and interact with one another.
The FracTroniX course is currently available at an introductory sale price of 25% off.
More information: Music-Courses