Producertech has launched Making a Drum & Bass Groove, the first part in a "In the Studio with…" series of video tutorials by colo[r].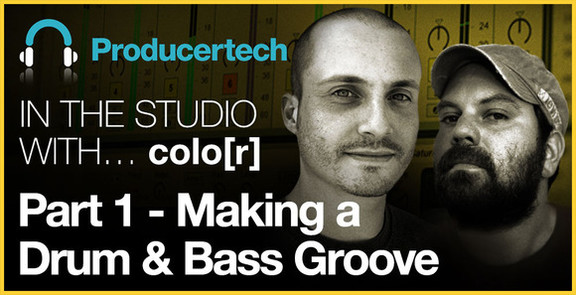 In the first of a lengthy three part series, producers Chris Octane and Liam O'Mullane invite you to join them in the studio, where you can observe their methods and advanced techniques for creating a serious Drum and Bass groove. Currently producing as part of newly formed outfit 'colo[r]', Chris and Liam bring together a veritable mountain of experience in electronic music production, DJing and sound design.

In the first instalment, Octane and Liam create their signature drum sounds by combining synthesised and acoustic elements. Next, they create a pattern and apply processing and effects to give it the punch and power to carry the track. Their attention to detail is evident when it comes to designing the bass: expertly manipulating synthesisers, filters, and other effects, including altering parameters on the fly using an iPad – which interfaces with Live using Max for Live objects. Following this is a lesson in creating edgy, dynamic percussion using sampling techniques and expansive manipulation. To conclude, colo[r] fine tune the various elements to wrap up the foundations of their new track.
The tutorial course is available for purchase for £19.95 GBP.
More information: Producertech / Making a Drum & Bass Groove