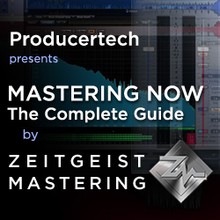 Producertech are proud to present 2 brand new Mastering courses, available now at Music-Courses.com.
Both courses have been created by Nicholas D'Ombrain, the director of Zeitgeist Mastering, who crams his years of experience mastering big names and record labels across Berlin and beyond into this series of tutorials, in order to pass on his valuable tips and mastering know-how.
The first course, Mastering Now – The Complete Guide, is a comprehensive, in-depth look at audio mastering and will give you exactly what you need to begin or go further with your audio mastering with real confidence. The course consists of over 6 hours of dedicated mastering tutorials, including 3 real life example tracks mastered from start to finish, a guide to the tools of the trade, some of the more secret tools and processes used, and a look at how to improve your critical decision making. There is undoubtedly something in this course for everyone!
The second course, An Industry Example, is an hour-long step-by-step guide to mastering a dance track from start to finish, using predominantly Waves plug-ins. This is also one of the last three example tracks from the Complete Guide, so anyone wanting to try out that course can sign up to this shorter course first to see an example of the content and delivery, before deciding whether to upgrade to the full course, which can then be done at a discounted rate.
After signing up to the course, students can access the streamed module movies 24/7 for as long as they need, allowing them to be watched and rewatched until everything has sunk in. At any point, Nicholas and the other Producertech tutors can be contacted via the forum, which allows Music Courses students and any mastering enthusiasts to discuss issues and interact with one another.
Sign up to the Music Courses website today to check out the trailer movies and sample module from the courses, which include a free pre-mastering lesson, covering the necessary steps and essential tips to preparing your track for optimum mastering results.
The courses are available from Loopmasters.
More information: Music-Courses