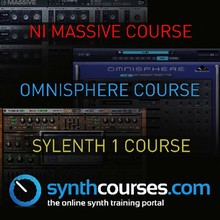 Producertech has announced its Synth Courses online synth training portal.
Producertech's Synth Courses have been designed to teach you the inner workings of the most popular software instruments available today, in order to teach you how to skilfully edit patches as well as create your own from scratch, which is an essential part of music production.

The courses, which are delivered via streamed movies, thoroughly explain the key stages of synthesis and give numerous examples of patch creation throughout, to help put all of techniques taught into perspective. In addition to the instrument presets and written notes that accompany the lessons, there are a host of extra patches or samples provided by Producertech's sponsor LOOPMASTERS. Furthermore, students have direct access to tutors either via email or on the forum when help is required.
Synth Courses
Producertech is offering a 20% discount on these courses until the end of November, 2012. Use coupon code XVPZU169 at checkout.
More information: Synth Courses