Producertech has launched Secrets of the Mashup by Elite Force, a video tutorial course on creating mashups.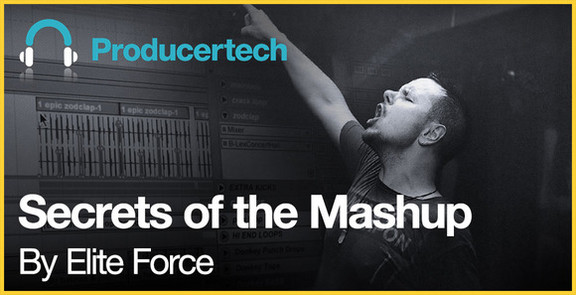 Since 1996, Simon Shackleton has been producing and DJing across the globe as Elite Force. Famed for both his technical prowess and exceptional creative capacity, he has received support from legendary DJs like Sasha and Fatboy Slim. In this lengthy set of tutorials, he provides an insight into how this remixing master created his mix of M.A.D. (with Hatiras, Jelo, Stanton Warriors & Vandal), featured on his 2010 'Revamped' album.

Throughout the course, the methods Elite Force utilises are dissected so you can understand not just how he works, but also the 'why?', which is fundamental to his ability to put together such vibrant and memorable mixes. By the end of the course you will have learnt how one of the most respected producers around uses these methods, as he imparts information to you in his clear and concise manner alongside real time demonstrations of these sophisticated techniques.

Alongside the two hours of video tutorials, the course also includes a 100MB bonus pack of samples courtesy of Loopmasters and the track M.A.D. For additional guidance on the techniques demonstrated, or to share your own tips and tricks, you can visit the Producertech forum where you can receive feedback and advice from other students and Producertech tutors.
The video course is available from Loopmasters for £29.95 GBP.
More information: Producertech / Secrets of the Mashup
?rel-0