Production Voices has released Production Grand 2, a Kontakt instrument library featuring the sounds of a Yamaha C7 grand piano recorded with 8 microphone perspectives.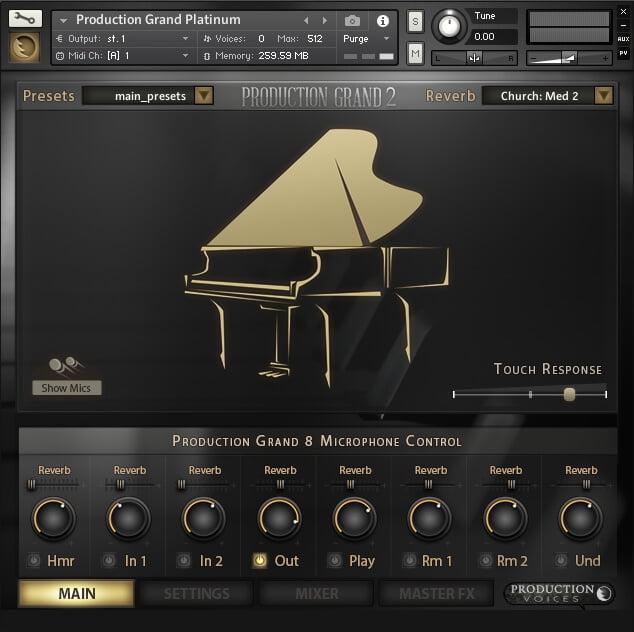 Production Grand 2 is an exceptionally high-quality piano sample library for NI Kontakt 5.5 and above, consisting of eight microphone perspectives and over 120,000 samples of a Yamaha C7 grand piano recorded in a world-class recording studio. The library is 437.5 GB in size before lossless compression!

Production Grand 2 is ideal for Studio Production, Stage Production, Film Score Production, Performance and more!
Production Grand 2 features
24 Bit 96k source samples.
12 velocities pedal up samples.
12 velocities pedal down samples.
12 velocities release samples.
8 microphone perspectives.
Authentic Pedalling: adds realistic pedal control.
Continuous Pedal controls (can half-pedal etc.).
Catch-pedaling, Soft and Sostenuto pedaling.
Authentic hammer mechanism noises (labeled: Pre-Attack).
Custom Reverb impulse responses (IRs).
Sympathetic Resonance with on/off and volume controls.
Extensive Mixer Page with invert pan, mono left right and sum choices, output selection and more.
EQ, compression, reverb send for each microphone perspective.
User controllable recording noise for added studio realism.
Recorded with world-Class microphones: Coles, AKG 414, Classic U87s, B&K, Crown etc.
Boutique A/D converters used: Burl Mothership.
Studio grade microphone preamps used: API and Neve 1073.
Production Grand 2 is available for purchase starting at $199 USD. Requires Kontakt 5.5 or higher, full version.
More information: Production Voices