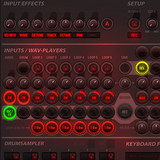 Prodyon has announced a promo sale for Livemachine XL, a unique new live-performance Windows VST effect, designed to be used creatively on the stage, at home or together with friends for jamming sessions.
The heart of LIVEMACHINE is the eight channel recording-looper in where you can record phrases, vocals, effects, wav-loops and so much more in realtime.

LIVEMACHINE is somehow an initiator of a new trend – the loop-based music production, which is endless fun and gets more and more friends worldwide.
Livemachine XL features
Livemachine

12 part drumsampler (WAV).
8 stereo recording channels/loopers + Reverse Playback.
8 Lowpass/Highpass Combifilters.
Variable Recording Length (up to 30 seconds).
6 stereo WAV players (disk-streaming).
Resampling of every channel + effects in realtime.
Overdub function for endless overdubs.
3 pages of input effects with reverb, delay, filter, distortion and more.
built-in morphable voice-controlled synthesizer.
built-in highquality FFT-based vocoder.
2 stereo outputs (1 main out / 1 cue out with metronome).
vu/peak metres for every channel.
realtime click- and pop-free audio operation.
MIDI learn functionality for almost all controls.
15 Realtime "Keyboard-Playable" effects.
Photorealistic GUI.
Support for all external H/W MIDI controllers that windows supports.
VST 2.0 operation.

Livemachine LE

, only features the Looper/Recording channels and the Input Effects from Livemachine.

Livemachine FX

, the "Input Effects" and "Keyboard Effects" from Livemachine (still in development).
Upcoming Samplepool, which will feature electronic loops, drums and vocoder-carrier sounds.
Future updates / bugfixes.
Lifetime support.
Livemachine XL is available for a promo sale price of $55 USD until 15 April, 2010 (regular price $129 USD).
More information: Prodyon / Livemachine