The ProgStock Presents Virtual Series has announce an upcoming series of concerts and events which will benefit the Bob Moog Foundation.
Moogvember will span all four Saturdays in November, and will feature acclaimed artists Adam Holzman, Larry Fast (with Erik Norlander), The Ryo Okumoto Project, Jordan Rudess and Tom Brislin. Shows begin at 4pm and end at 10pm Eastern Daylight Time.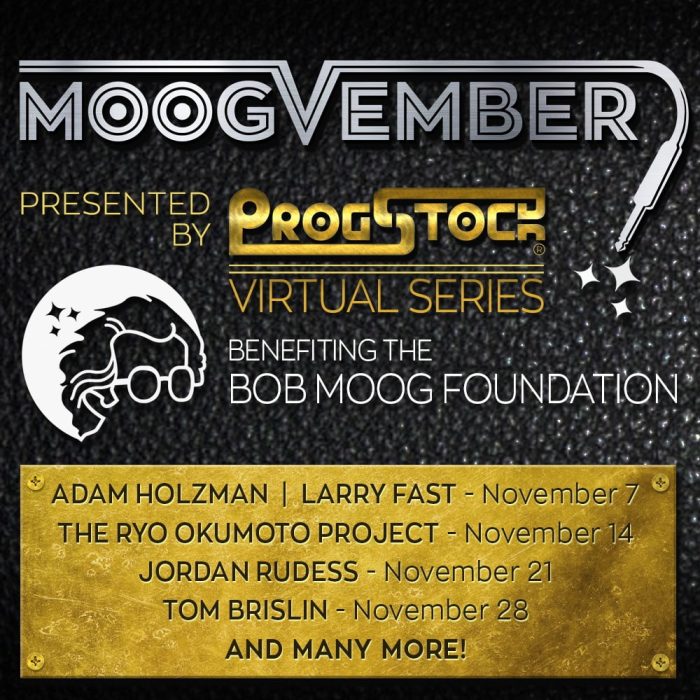 "The Bob Moog Foundation is thrilled to be collaborating with the ProgStock Presents Virtual Series to offer this stunning lineup of immense talent." noted Michelle Moog-Koussa, Executive Director of the Bob Moog Foundation. "We are deeply grateful for the support of all of the participating musicians, and for the funding that will be generated to assist our various projects, particularly during a very challenging year. Progressive rock and Moog synthesizers are so closely intertwined, essentially coming into being together. Moogvember is a result of decades of that close relationship."

"ProgStock is proud to continue our partnership with The Bob Moog Foundation by working with them to create Moogvember!"remarked Tom Palmeiri and Ann Rinaldi, ProgStock co-producers. "The work they do to educate people, especially young people, about music through their programming, is vital to a healthy society and will always have our support."
Tickets ($4-$10 USD) will be sold through the StageIt platform, where attendees can also leave tips for the artists during the performances and other events.
A portion of the proceeds from each concert will be donated to the Bob Moog Foundation to benefit their educational and archive preservation efforts, including the new Moogseum, which was closed for five months due to the pandemic.
Each show requires a separate ticket. Attendees are encouraged to create a StageIt account and purchase tickets prior to the event.
More information: Bob Moog Foundation